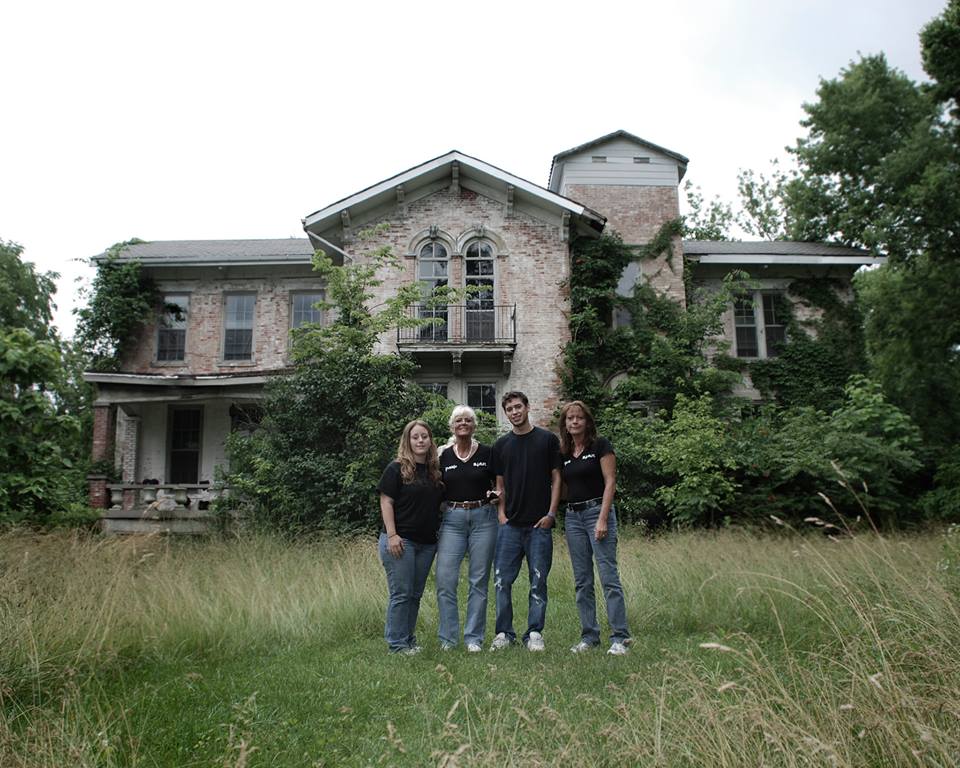 Amber Royalty, Debbie Jansen, Gabe Wyatt, Barb Wyatt

Barb Wyatt, Debbie Jansen and

Honorary Members Amber Royalty and Gabe Wyatt investigated Thornhaven

Manor in New Castle, Indiana.

Thornhaven Manor as it was named by the current owner Steve Miller was

built in 1845. This beautiful Italionate home originally set on a

1,000 acre farm but now resides on seven acres of woods, meadows and

marsh land.Rich in history the Manor was once a stop on The

Underground Railroad, was home to many prominent families as well as

civil war soldiers ( one dying in battle ) and was even the scene of a

fiendish murder plot. Steve Miller purchased the property on May of

2012 naming it Thornhaven Manor because of all the Thorn trees on the

property. He has big plans to restore the home to it's original glory.

Steve had no idea that the place and grounds were haunted when he

bought it. After finding this out he now opens it to paranormal

investigations in an effort to fund some of the costly

renovations.....He has had a psychic go through the Manor who told him

there were forty-seven spirits in the house alone! We arrived at the

Manor at approximately six o'clock on Sat. June 29 where we met Steve

who took us on a tour of the home , barn and grounds giving us the

history he has uncovered on the place.

Steve remained on the property with us and even set in on some EVP and

flashlight sessions throughout the night.Amber Royalty, Gabe Wyatt and

Barb  Wyatt started out in the basement doing an EVP and flashlight

session at one of the three wells located there. We immediately felt

the prescence of something or someone. The temperature kept getting

colder and colder, the floor of the basement is dirt and there were

puddles of water around the well and a chair that was sitting next to

it. During the EVP session you could see what looked like a footprint

come down into the puddle as if someone had just walked through it!

This happened three times while we were watching it. We then started

getting responses via the flashlight. Something tugged at Gabe's

jacket and when I asked if whatever spirit was there had done this we

got a yes response by the light coming on. As we continued to ask

questions the air got very thick and heavy, Gabe started complaining

of a headache so after a few minutes we stop the session and told

whoever we were communicating with that we were going upstairs and

that they were welcome to come along. By the time we got outside Gabe

was feeling sick to his stomach and actually threw up! He got sick 3

times and I actually prayed over him and we all told it to leave him

alone.He had to sit in the car for a few minutes away from the house

to get over it.

Meanwhile Debbie Jansen was doing a session in the front of the house

where she was joined part of the time by Steve as well as the rest of

us after we left the basement.She was using a digital recorder and

flashlight as well. She contacted a gentleman that told her he was a

relative of one of the previous owners and had fought and eventually

died from wounds received at Gettysburg. He also told her that he was

buried somewhere on the property.We continued throughout the Manor

using digital recorders, digital cameras, the ghost box, EMF pumps,

flashlights, a thermal imaging gun and night vision camcorders. The

entire night batteries were getting drained one after the other,

equipment was even getting shut off on it's own and settings were

getting changed with no cause that we could come up with. Every piece

of equipment was actually drained and shut down. There is no

electricity in the building so once all of our batteries and cameras

were drained we were without equipment. We heard voices, footsteps, a

growl in the servants quarters and all had personal experiences of

heaviness in the chest, cold spots, head pressure and feelings of

anxiety and almost anger at times, all for no apparent reasons. There

were also sounds of keys or chains being jiggled footsteps running

upstairs when we were down and downstairs when we were up.

The most compelling evidence caught ( and the most compelling caught

in the Manor to this date! ) was caught in the drawing room across

from the main hall on the first floor. All four members where present

in the room. Steve was sitting in the front room across the hall. We

were settling in in front of the fireplace, I set the EMF Pump on the

mantle and turned it on, the battery in it immediately started

draining, by the time I walked about three feet away from it it was

completely drained! Debbie had started an EVP session and Gabe was

manning the Thermal Imaging gun while Amber was also asking questions

and I was filming. Amber reported something messing with her hair and

that it was getting very cold behind her. We all then started getting

cold chills and Gabe turned the gun towards Amber. Gabe shouted "Mom!

What the heck is this?! It's moving!!" I looked at the Thermal Gun and

you could see this thing moving right outside the bay window that

Amber was sitting in front of  with her back to and it started to move

inside towards us! By this time all of us but Amber were looking at

this apparition on the Thermal and all saw the exact same thing! I run

out of the building and around to the window to make sure nothing or

no one was there and of course there was not! We captured four photos

on the Thermal Imaging Gun of what we saw.